Become a Part of The FAVR Show!
Favr's television show captures today's spiritual and Christian experience while entertaining viewers. The weekly lifestyle program, hosted by Favr founder Pamela Lowery, shows how God moves through people with testimony, affirmations and positive information.
You can reserve free tickets to see a taping of The FAVR Show with Pamela Lowery by emailing Sharonda Lawson [email protected]
We release show dates and ticket requests as they become available. Please check your monthly newsletter and your email to stay up to date on show and ticket availability. Requests cannot be submitted for dates that are not posted on the calendar.
Preferably all guests must be fully vaccinated on the day of attendance and will be required to adhere to all applicable COVID-19 protocols. Please note "fully vaccinated" means at least fourteen (14) days after receiving the second dose of a FDA/CDC or WHO approved vaccine or of a single-dose of the Johnson & Johnson (Janssen) vaccine. Proof of vaccination must be a valid and approved digital pass or your physical vaccination card, which shows a FDA/CDC or WHO approved vaccine. This will be required upon arrival. Guests that fail to provide proof of vaccine will not be admitted.
If you are sick, feeling under the weather please stay home.
You must be at least sixteen (16) years old at the time of taping to attend. No one under the age of 16 will be admitted into the show, regardless of whether a parent or guardian is present. Everyone in your confirmed party must present a valid photo I.D. containing date of birth upon arrival and proof of vaccination.
You will need to sign up with FAVR Lifestyle only to apply for tickets to the FAVR Show with Pamela Lowery.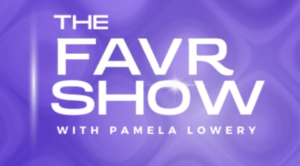 We recommend you do this in advance of the ticket release by clicking here. When you apply for tickets to The FAVR Show  with Pamela Lowery, you will be automatically placed on a waiting list. At this point, you do not have a ticket. If we are able to fulfill your ticket request, you will be contacted through 1iota. If you are not notified by the FAVR Studio team, we, unfortunately, were unable to fulfill your ticket request and you do not have tickets.
All tickets are complimentary and may not be sold or auctioned. The FAVR Show with Pamela Lowery and Water Walker Media Group LLC reserve the right to REVOKE any ticket believed to have been purchased or sold. Any ticket may be REVOKED at any time at the discretion of show personnel.