What does it mean to grow where you are planted?
The expression "bloom where you're planted" means a person should take advantage of the opportunities they have in their life and be grateful for the present situation. Oftentimes, if you're unhappy with where you're at in life, you may struggle with this notion.
1 Corinthians 26-29
What does the Bible say about being planted?
"But blessed is the one who trusts in the LORD, whose confidence is in him.They will be like a tree planted by the water that sends out its roots by the stream. It does not fear when heat comes; its leaves are always green. It has no worries in a year of drought and never fails to bear fruit" Jeremiah 17:7-8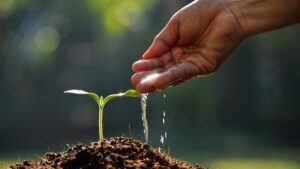 Throughout history, God has always used the least qualified and the most unqualified to provoke change. God even uses quitters, as the Bible demonstrates through the life and ministry of Peter. God can use people who fail, curse and betray Him.
26 Brothers and sisters, think of what you were when you were called. Not many of you were wise by human standards; not many were influential; not many were of noble birth.27 But God chose the foolish things of the world to shame the wise; God chose the weak things of the world to shame the strong. 28 God chose the lowly things of this world and the despised things—and the things that are not—to nullify the things that are, 29 so that no one may boast before him. 30 It is because of him that you are in Christ Jesus, who has become for us wisdom from God—that is, our righteousness, holiness and redemption. 31 Therefore, as it is written: "Let the one who boasts boast in the Lord."
1 Corinthians 26-31
God has always used the least qualified and the most unqualified to provoke change
ALL ARE SURPRISED BY WHAT GOD CALLS THEM TO, BUT THEY STILL CHOOSE TO ANSWER THE CALL.
Though you may not feel as if you're the obvious choice for honoring God with your life, no one qualifies according to their own merit. God uses a responsive and willing heart to do amazing things.
Watch, learn and grow with this amazing sermon with Michael Todd, senior pastor Transformation Church, Tulsa, Oklahoma